Rensselaer promotes, maintains, and improves individual and community health by teaching students individually and collectively how to take an active role in their own health care, all while placing an emphasis on social justice, equity, diversity, and inclusion. 
Health promotion initiatives at Rensselaer utilize comprehensive, trauma-informed, evidence-based practices to improve health knowledge, behaviors, and skills of Rensselaer students, thereby enhancing academic success. It is our goal to lead students to positive change and/or reinforce existing knowledge, behaviors, and skills that support overall physical and mental health and wellness.
Programs & Topics Covered:
Alcohol and Other Drugs
Narcan Training  
Mental Health 
Healthy Eating
Movement & Exercise
Safer Sex
Sleep Hygiene
Human Sexuality
Stress Management 
Interpersonal Violence 
Self-Care & Wellness
Mindfulness Meditation
Bystander Intervention Training
To request a one-on-one consultation on any health or wellness topic, or to request a wellness program for your club or organization, please email: healthed@rpi.edu 
Initiatives and Services
Wellness Workshops are free and available to all RPI students (undergraduate and graduate).
Registration is required for all wellness workshops. Register for any of our spring 2023 semester workshops via the following link: https://bit.ly/Spring2023WellnessWorkshops
Check back for monthly calendar updates regarding our spring 2023 semester wellness workshops!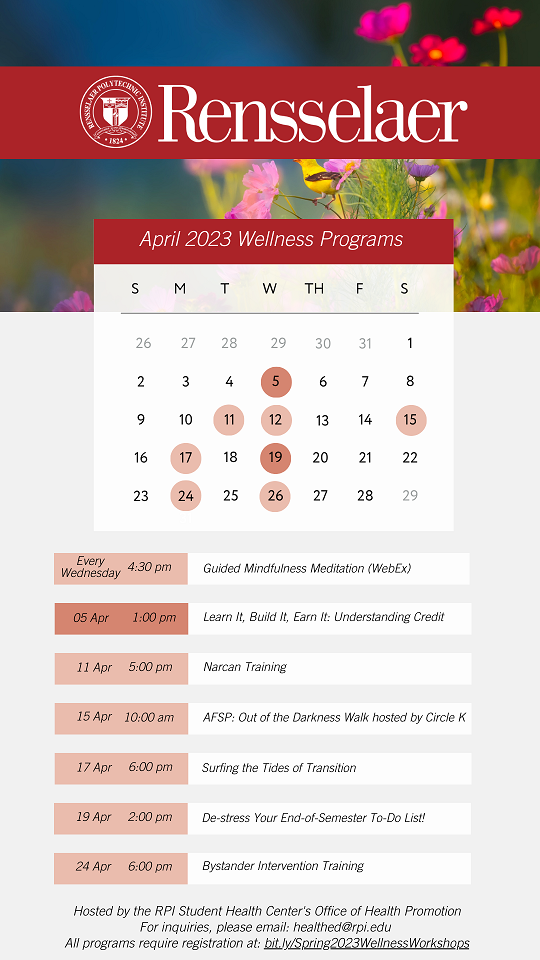 Brought to you by members of the RPI Mueller Center, RPI Counseling Center, and RPI Office of Health Promotion, #RPIMentalHealthMondays or #RPIMHM offer students a host of detailed tips and resources on how to improve and sustain their mental health while at RPI.
Posts can be found on any of our social media pages: Instagram, Twitter, and Facebook.
If you have any questions or suggestions for topics (!), please email us at: healthed@rpi.edu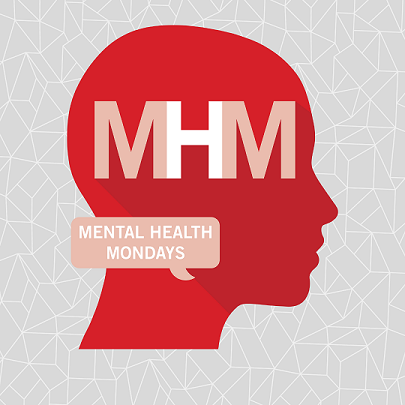 The RPI Rainbow Connection supports the lesbian, gay, bisexual, transgender, queer, and questioning (LGBTQ+) campus community at Rensselaer. The RPI Rainbow Connection is housed on a Discord server, providing a virtual space for the RPI queer community and allies to meet, discuss, and share advice.
The RPI Rainbow Connection Discord server is also the home of the RPI LGBTQ+ Mentoring Network, a program which pairs "mentors" ("out" LGBTQ+ staff, faculty, and alumni) and "mentees" (LGBTQ+ undergraduate and graduate students) in mentoring relationships.
For more information, contact Tara R. Schuster: schust@rpi.edu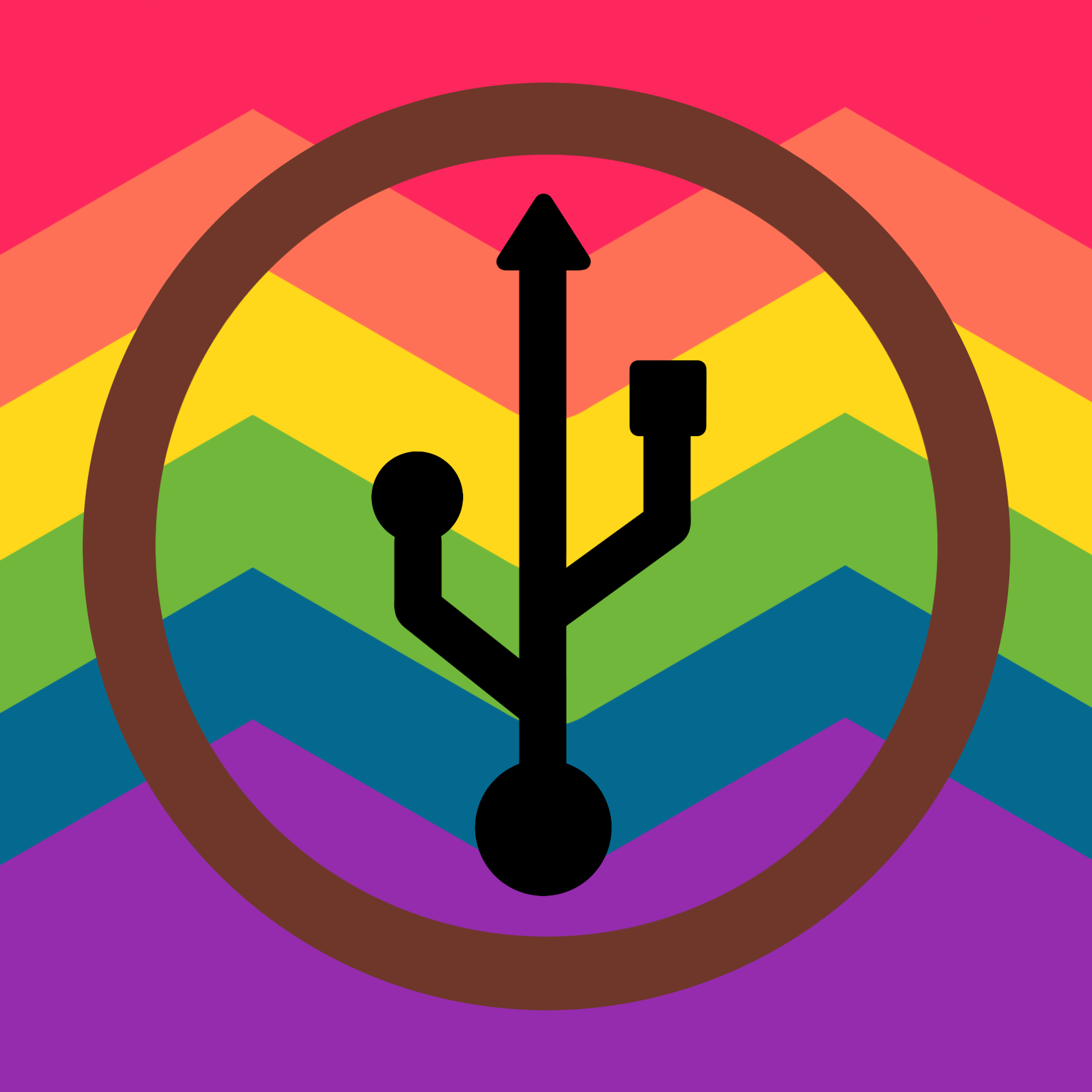 Rensselaer's Bystander Intervention Training was developed in fall 2013 by the Student Health Center and Counseling Center, utilizing evidence-based research to address common areas of risky behavior found among college students who may engage in social activities in the presence of alcohol and/or other drugs: substance misuse, hazing, sexual misconduct, and mental health emergencies. This training helps students develop the skills necessary to intervene in these types of situations, while keeping themselves and others safe.
To request a group training, please email: healthed@rpi.edu
Alcoholics Anonymous (AA) Meetings
A complete list of meetings available in Rensselaer County: https://aahmbny.org/meetings/?tsml-region=rensselaer-county
Al-Anon of the Greater Capital District
Al-Anon meetings are for anyone who has been affected by someone's drinking. For a listing of meetings available in the Capital District of New York visit: https://www.al-anon-8ny.org/online-meeting-schedule
Narcotics Anonymous (NA) Meetings
University at Albany Collegiate Recovery Programs:
University at Albany (UAlbany) in Albany, NY provides a range of recovery support groups to area college students free of charge. Three recovery meetings are offered regularly throughout the fall and spring semester: All Recovery Meeting, SMART Recovery Meeting, and Friends & Family SMART Recovery Meeting. Descriptions, dates, times, and locations are listed below.
All Recovery Meeting
All Recovery Meetings are open to students in recovery from substance use, gambling disorder and other types of mental health concerns (such as self-harm) who are seeking wellness and recovery support. This is a non-denominational recovery meeting for every type of addiction.
When: 6:30 - 7:30 pm, every other Tuesday starting 2/7
Where: Catskill 147 (Download an Uptown Campus map)
SMART Recovery Meeting
SMART Recovery groups are open to college students wanting to address their alcohol and drug use, gambling, and other behaviors that may be negatively impacting their well-being and academic performance. Students learn tools and strategies toward stopping, moderating, or maintaining non-risky involvement in these behaviors while sharing their experiences to help others. By doing so, they find and develop the power within themselves to lead fulfilling and balanced lives.
When: 6:30 - 7:30 pm on Thursdays
Where: Catskill 147 (Download an Uptown Campus map)
Friends & Family SMART Recovery Meeting
Friends & Family Self-Management and Recovery Training (SMART) Recovery Meetings are open to students concerned about a loved one and looking to learn coping skills.
When: 6:00 - 7:00 pm on Thursdays
Where: Humanities 039 (Download an Uptown Campus map)
For more information or questions about these support groups, visit the UAlbany Collegiate Recovery Program website: https://www.albany.edu/health-well-being/mental-health/recovery#schedule or contact the Collegiate Recovery Program via email at: collegiaterecovery@albany.edu
Pre-matriculation, all incoming freshmen and transfer students are required to complete two online educational programs: AlcoholEdu and Sexual Assault Prevention for Undergraduates (SAPU) created by Vector Solutions. AlcoholEdu is a personalized educational program that assesses individual risk, covers campus and federal policies, addresses risk-reduction - including abstinence, and covers on- and off-campus resources. SAPU covers sexual misconduct, campus and federal policies, and reviews on- and off-campus resources.
Many of you know that at Rensselaer, we take a proactive, comprehensive approach to supporting the whole student. This includes your overall wellbeing, starting even before you begin your studies at our university. We have made it a priority for all students to participate in a series of online wellness trainings aimed at creating a safer campus community. Some of these programs (AlcoholEdu and Sexual Assault Prevention for Undergraduates or SAPU) were required before your arrival on campus, and others are part of the ongoing wellness initiatives we integrate throughout your college experience. We believe this continued investment in prevention is central to upholding our mission, honoring your trust, and preparing you for success in all facets of your life - on campus and beyond.
In October of 2020, Rensselaer earned the highly regarded Campus Prevention Network (CPN) Seal of Prevention for our best-in-class prevention and wellness programs. The CPN Seal represents the highest standard for online prevention education, with a rigorous set of criteria to ensure we are making a measurable impact across the critical health and safety areas of sexual assault prevention and alcohol and drug misuse. We are confident that our comprehensive digital education efforts, paired with the work that faculty, staff and students like you do every day to reinforce the values and expectations of our community, will support us in making Rensselaer the best it can be.