RPI Student Health Services support students' rights to make informed decisions about their own bodies in collaboration with their health care providers.  We continue to provide safe, high-quality student health services and facilitate referrals to local community healthcare providers when needed. Listed below is a table of reproductive and sexual health services available at the Rensselaer Polytechnic Institute Student Health Center.
Questions about any of these services can be directed to the Student Health Center at (518) 276-6287 or sent via email, healthcenter@rpi.edu.  
Reproductive and Sexual Health Services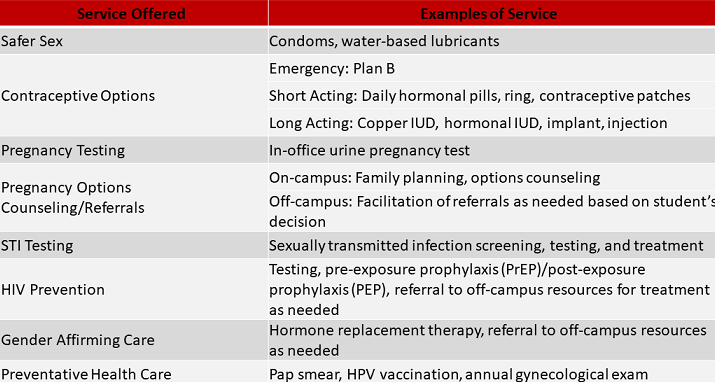 Following the recent decision by the Supreme Court, we want to remind students that support is available. The Rensselaer Polytechnic Institute Counseling Center is available 24/7, 365 days/year. If you or anyone you know is in need of support, contact the Counseling Center by calling (518) 276-6479 or e-mailing, counseling@rpi.edu. Appointments are available Monday through Friday, 8:30 a.m. – 5:00 p.m. To reach the on-call counseling service after hours, call (518) 276-8888.