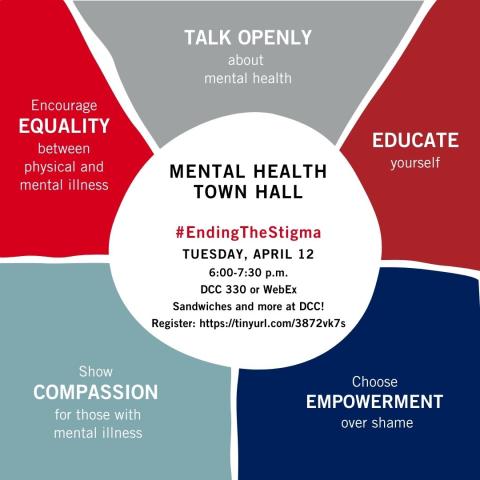 Mental Health Town Hall: #EndingTheStigma
When: Tuesday, April 12, 2022
6:00 PM - 7:30 PM
Where: DCC 330 or WebEx
Registration: https://tinyurl.com/3872vk7s
Description: 1 in 5 adults experience a mental health condition every year. Join our counseling staff at our Mental Health Town Hall to educate yourself, talk openly, help encourage equality between physical and mental health, show compassion, and to choose empowerment over shame. Together, we can move toward #EndingTheStigma on mental health to support those affected.
Registration required for in-person and virtual attendance: https://tinyurl.com/3872vk7s
Food will be provided at the in-person event.
Sponsored by the Rensselaer Counseling Center